All books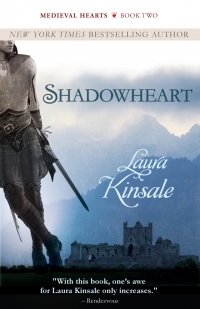 Ereads, 2011 POD
ISBN-13: 9781617564840
ISBN: 1617564842
Berkley Books, 2004, 2006
ISBN-10: 0-425-21166-5
ISBN-13: 978-0425211663
buy now
Shadowheart
Finally back, for the first time in ebook format, an extraordinary tale of consuming love and fiery passion between a fatally dangerous man and the woman who stands in the way of all he's ever desired. Elegant yet violent, beautiful yet brutal, the assassin Allegreto has returned in this long-awaited sequel to For My Lady's Heart
Now, readers can choose between two versions of the story. Both are included in this same ebook. The first is the original published novel filled with deep period detail. The second (included only in the ebook version) presents a condensed version, for readers who prefer a tighter read and more modern words for dialogue.
Shadowheart is also available in the original version as Print-On-Demand, a high-quality trade size paperback with the newly designed cover.
Discuss this book
Setting:
Medieval Europe, late 14th Century
Mascot Animal:
Nimue, a large white dog, rather like some Great Pyrenees we might happen to know…
Laura's Comment:
Allegretto first appeared in For My Lady's Heart, a beautiful young assassin who seemed to have a will and life stronger than any fictional creation. I knew that I must write his story, and readers demanded it, but it took me years to understand him. He did not make it easy for me. Who would have expected that he would? And what I finally learned of him was not at all what I had anticipated. I knew it would take far more than any ordinary woman to love such a man, but even so, Elena surprised me too. She revealed herself first as a blithe maiden, but I found she had a blade hidden in her soul, and the courage to use it.
Expect Shadowheart to be a dark read, and perhaps controversial. Allegreto is truly an assassin, he is a killer. His heroine could not be faint-hearted, and readers will also be challenged to look into the deepest shadows of his soul.
Recognition:
Romance Writers of America Rita Award - Best Long Historical Romance of 2004
Old Covers:
Discuss this book
[1] Posted by laura kinsale on 01.08.2010
(Comments closed due to spam. Feel free to email me or make contact on Twitter or Facebook.) All opinions are welcome, positive or negative, but civility and polite language are required for comments to remain. Political or religious references are not allowed, unless directly related to the book under discussion. I do answer questions but I seldom give interpretations about my books or characters, because I enjoy hearing what readers see in them. These comments and discussions replace my old forum at The Terrace. (Note that the spam captcha is an english word interspersed with a number—this may help you tell a letter from a number. If it's still too hard to see, reload the page for another one.) WARNING: Book discussions may contain spoilers.
[2] Posted by Giorgia on 01.16.2010
This book is wonderful and I wish that there would be more books for the series, Maybe with Allegreto and Elena, did the ever have children? Its something that want to know about, What happens afterward, So, another book, would be AWESOME!
[3] Posted by PG on 01.18.2010
I was surprised to read in the Author's Note at the end of "Lessons in French" that there had been so much reader controversy about "Shadowheart." I thought it really was Allegreto's story as the story for such a man would have to be told: often angry, violent, tormented and having to break through those aspects of his past in order to establish any kind of Happily Ever After. I suspect that people may have interpreted some sexual activities through the prism of how we categorize them today ("S&M," "kink," etc.) in which they are part of people's identification.
[4] Posted by Vikki Johnson on 01.22.2010
I was mesmerized by Allegreto in "For My Lady's Heart". The thing about Laura Kinsale's novels is that you can feel so much emotion for even secondary characters. But Allegreto was not just a secondary character—not by a long shot. Of course, I had no idea just how deep he was. It gets pretty dark, the deeper you go. That darkness, however, is essential to who he is, balanced by his fear of damnation. When he walked into the church, for example: I, personally, almost felt at the point of a panic attack for him, it was written that well. By far, my favorite Kinsale male character, darkness and all. In fact, it was the darkness that cinched it for me! ;P
[5] Posted by Gwyneth on 01.22.2010
I totally agree with the above comments. The sharp edges of their relationship made this story feel more real and more romantic, at least for me. Sometimes love in romances can feel a little too sickly sweet - too good to be true - and I just stop believing. Shadow Heart and The Shadow and the Star are my favourite Kinsale books. I love them dearly. (They both have 'shadow' in the title… Coincidence? I think not. I wonder if Laura would consider renaming her new book "Shadows in French"? Yeah, probably not the best idea *sigh*)
[6] Posted by Shauna on 01.23.2010
Shadowheart is my all-time favorite book. The depth of the characters, their struggle with themselves and the others around them, their growth, is deep and beautiful. I have never read another book like it. I think that it is a shame that this book has had controversy surrounding the love scenes because they work perfectly in this book in a way that wouldn't make sense in most others. I wouldn't change a thing. Thank you so much Laura. You should be proud of this book, as well as all of your others.
[7] Posted by mrs.mj on 01.27.2010
I think this is my favorite as well. There are times I wanted to smack both of them around a little! But that's just great writing, making me feel emotions for fictional characters.
[8] Posted by PG on 02.08.2010
I'm listening to the k.d. lang version, and I realized how perfectly the song "Hallelujah" written by Leonard Cohen fits _Shadowheart_.
http://www.youtube.com/watch?v=YYiMJ2bC65A&feature=player_embedded
[9] Posted by laura kinsale on 02.09.2010
Thank you. Astonishing performance. Between the singer and the composer…anybody who doesn't believe in the living presence of muses should watch and listen.
[10] Posted by Hannah on 02.17.2010
I enjoyed Shadowheart, the story was well done.
[11] Posted by starmoth on 03.01.2010
Many thanks for Shadowheart and the kd lang video.
I have been tired of the romance genre's restrictions for many years. The love scenes in Shadowheart were appropriate to the characters and erotic. There are plenty of writers who stick to the formulas for those readers who are troubled by less conventional sex.
Ms. Kinsale, you have always been one of my favorite writers because of your willingness to go further—with whimsy, plot, characters, humor. I'm delighted that you are writing again.
[12] Posted by laura kinsale on 03.01.2010
Thank you, Hannah and Starmoth!
I have just gotten the rights back to Shadowheart and For My Lady's Heart. I'm not quite sure of my plans yet, but I hope that soon they'll be in print again.
[13] Posted by Eileen E. Luther on 03.14.2010
I have been a reader of the historical romance genre since I was in middle school in the early seventies, moving quickly from Harlequin romances to Georgette Heyer. As time has gone on, I have found it very difficult to find a quality read in this genre, there are only a few authors out there that I will spend time with. Laura Kinsale is at the very pinnacle of this short list, with For My Lady's Heart and Shadow Heart being the best romance novels I have ever read. I cannot imagine any controversy in Shadow Heart, but people always can find faults I suppose. Why are these two books out of print?
[14] Posted by laura kinsale on 03.15.2010
Hi, Eileen, glad you enjoy my books!
I have just gotten the rights back for my Berkley books, which include Shadowheart, For My Lady's Heart, The Dream Hunter and My Sweet Folly. I am working now on what I am going to do with them. I have some ideas to experiment with some of the new options in publishing, for instance designing my own epub editions. This may take me awhile as it's a steep learning curve! But I hope to have some of these titles available, at least as e-books, by the end of the year.
[15] Posted by lisap on 03.23.2010
I just finished For My Lady's Heart and Shadowheart and so enjoyed them—Allegreto is one of the most interesting characters I've ever read. I loved seeing how his character developed over the two books—how he still retained some of the quirks and fears he had as a young man. The last 100 pages I re-read several times—the way he found peace with the people in his past, with Elena and with God brought tears to my eyes—some of the most affecting passages I've ever read. I appreciated that you highlighted his flaws and insecurities—we can all relate to his struggles so much more that way. So many romances make the hero indestructible and always perfect in judgement—that's why I appreciate your books so much. Your characters are so real to me.
[16] Posted by laura kinsale on 03.24.2010
Thank you Lisa! I like think flaws and insecurities make even assassins interesting. ;)
[17] Posted by Lauren on 03.29.2010
Hi Laura,
I wonder if you would address the lack of Allegreto's point of view for so much of the beginning of the book? Honestly, that's the only thing that kept this book from being one of my all-time favorites ("Shadow and the Star" still gets that honor). Thanks for any thoughts you can share.
[18] Posted by laura kinsale on 03.30.2010
That's an excellent question, Lauren—in fact it's so good I'll turn it around on you. Where do you think his point of view should have begun?
[19] Posted by Lauren on 03.30.2010
Oh, Laura, you're tricky! :)
I would have liked to have read Allegreto's pov within the first fifty pages, so I could have had a sense of his "voice" early on, which would have made it more interesting (for me) to see him then fall in love. In other words, to see the defenses and the scars (i.e. the dramatic stakes) before they are dismantled/healed. And I would have liked to have read a moment from his pov when he realized his attraction to Elena, and the deeper implications of that attraction.
I do understand—or at least, it's my interpretation—that our experience of Allegreto as a shadowy character mimics Elena's slow discovery of his heart. But I suppose for me as a reader, I would have found the novel more fulfilling and satisfying if there'd been more of the traditional "one or two chapters her pov/one or two chapters his pov" right from the start. I hope that makes sense. Thanks for your response!
BTW, I just ordered The Dream Hunter and can't wait until it arrives :)
Lauren
[20] Posted by laura kinsale on 03.31.2010
I think it's too long before Allegreto appears in SH, which gives it a rather slow start. (I did try to fix that but couldn't seem to!)
From my angle, TBH I'm not sure I could have successfully pulled off A's pov earlier, for several reasons—partially that he is not aware himself of what he feels until it happens to him, and partially because this is just my writing style, to view the most powerful emotional scenes from outside the character until it becomes impossible to maintain that.
Then again, I haven't read the book in a long time, so maybe I would do it differently now, but I tend to think not.
[21] Posted by Val on 04.02.2010
Hi Laura
Will there ever be an ebook version of Shadowheart available?? I wait and hope : )
[22] Posted by laura kinsale on 04.04.2010
I am hoping that by the end of the year there will be an ebook of Shadowheart
[23] Posted by eKathy28 on 04.06.2010
I think the theme of this book should be this too is love. For the squeamish out there (and I admit I at times I was, but it sure made me think hard about what would excite and assassin when it came to love play) I expect the problem is that your characters are so vivid that and people identify with them so closely that it is hard when they are not like us. If that makes sense. You don't want to identify with this darkness so you reject it even though in the sense of the novel it is 100 percent consistent with the characters. I am just guessing. I love these characters as I love all Laura's characters. They are beautifully drawn and they do such amazing things. When she believes in him and he feels the light punch a hole in him ... I can start crying all over again just typing it.
Now, if I were an editor instead of a slavish fan ... I might ask if you tried the tried and true romance device of a prologue to get Allegretto in earlier. Imagine him on the island casting the cards and seeing her on her way. I never did quite understand why all those kid were around him unless maybe it was the children he thought he would never have. An early island scene might explain him a bit better and set it up so he is not quite so severe, maybe a bit more sympathetic when we first meet him. The blue lit and cold marble Raven is not the one we love. It is Allegreto, who knew he would be feared but never thought he would be loved.
Man, I loved this book.
[24] Posted by laura kinsale on 04.07.2010
(I usually get flak when I write a prologue!)
I've been thinking about Allegreto in terms of these recent comments. I see very much what you are saying—and yet, if you had the inside of him exposed from the start, would he be as powerful a character? I think that to understand the intensity of his internal conflicts, the reader needs to see the "cold marble" as you described it, and begin to wonder if there is more, because being "stone" is the way he has survived.
He is an assassin. Could there be any softness or sympathy in that, and not change him fundamentally?
[25] Posted by eKathy28 on 04.07.2010
I am not surprised to find you have tried prologues and been bashed for them. Many times they do seem tacked on to books, but sometimes (I am thinking the first two pages in G. Heyer's "Black Moth") they can set up a tension that carries through the book. Sympathetic was a terrifically poor choice of words in my earlier note. Sorry to go down a rabbit path. As you say ... assassins are not sympathetic. He is a strong character for many more reasons that he can kill without blinking, though. And some of the reasons are sympathetic ones. I hope it doesn't sound like I am arguing. Just trying to think through what you and earlier people said about wanting him in the story earlier. It is truly a delight to be able to have a forum for the kind of thinking about words and relationships that your stories generate. I hope it is as much fun for you (and not detracting from other writing).
[26] Posted by starmoth on 04.07.2010
I personally would not have enjoyed a prologue as much as I did the tension produced by her abduction and the (anticipated) discovery that the pirate was Allegreto. rec77ent
[27] Posted by laura kinsale on 04.07.2010
Don't worry, Kathy, that's why I have the comments section, so people can discuss the books.
I enjoy hearing what readers think, particularly when it's deeply considered as you are doing. I don't think I have the definitive answers, and it's interesting to consider alternatives.
[28] Posted by Seadhli on 04.22.2010
Shadowheart is the first of your books I have read, I actually looked up wour website so I can find more titles!
I loved it! It was darker than most romances, but more real because of that darkness!
[29] Posted by Amy on 04.26.2010
I loved this book Shadow Heart, my third Laura Kinsale. I am now an official fan.
Your characters in this book have intrigued me, and now I must read the book that precedes this one. I should have read them in order!
I love Elena and Allegreto's story, I could not put it down.
As dark as it seemed to be, I let the story unfold and was not disappointed. Allegreto's perceived rebellion was cloaked in his reverence. How did you do that? Yet, it makes the story more believable.
I thank you for writing their story.
I would love to see Allegreto's legacy.
[30] Posted by laura kinsale on 04.27.2010
Seadhli and Amy, thank you! I think Allegreto is one of the most interesting characters I've written. He really surprised me in the way he came to life of his own accord—it was more as if I had to find out about him rather than "create" him. Glad you enjoyed his book.
[31] Posted by Jessica on 05.07.2010
I love, love, love discovering a new author to add to my short list of cherished favorites, so I was thrilled to discover the name Laura Kinsale about a year back when I read Seize the Fire.
I admit, I understand the controversy about the "S&M"-esqe scenes in Shadowheart, and they did make me a little uncomfortable, but I wouldn't have changed them. They fit with the characters and their motivations and personalities. It works. Something I have noticed as a common theme in the posts: readers tend to have personal feelings about each character (one thing that makes the books great!), and everyone's reaction is different. For instance, I loved Flowers from the Storm, but when Maddy was waxing eloquent about what was required of her by the Friends, I often wanted to punch her in the face and tell her she was being self-righteous (even though I totally understood her motivations).
I personally don't think there should be a sequel. I love Allegreto and Elena as they are!
[32] Posted by laura kinsale on 05.10.2010
Thank you Jessica! I agree that sometimes when a reader really buys into a character (which is good) that makes the character seem particularly frustrating when they seem to be making a mistake.
[33] Posted by Giorgia on 05.13.2010
Actually, now that i re-read the book, i find it fairly intriguing, and, unlike other books I've read, I can read it without wanting another book, because I love it and its good literature!
[34] Posted by Liz on 05.18.2010
It is interesting to hear people's thoughts on when we finally see Allegreto's pov in the story. Myself, I had to flip to the second half of the book and check random pages, without reading too much and spoiling anything, to see whether we would ever be in his head. A tricky thing, that! I was initially feeling impatient for it but in the end I thought it was perfect timing. Especially because the first line of his thoughts contained the word "annihilated." I mean, I could feel him coming apart over Elena during that first half of the book and I felt so justified to see it in print. What a powerful story!
[35] Posted by Liz on 05.18.2010
One and more thing - loved having Nimue in the story. I too believe life can be measured in dogs. Yours, by the way, are GORGEOUS! We have two beautiful black Newfies and people ask me quite often… "Are those Great Pyrenees?" Um, no. ;-)
[36] Posted by laura kinsale on 05.18.2010
Hehe, Liz, yes and people ask me if mine are Newfies! I love those too; guess I'm just a big furry dog kinda person.
I never count out sequels or prequels (since I wrote The Shadow and the Star many years after The Hidden Heart) but I also never make plans!
[37] Posted by Vixen on 05.28.2010
Just want to add my tuppence-worth… I'm a new reader in the UK. I've only just discovered your work this year, Ms Kinsale. So far, I've read "Flowers in the Storm", "For My Lady's Heart" and "My Sweet Folly". I've been bowled over by each one in turn. Thank you.
I'm a literature graduate, who has also always read a LOT of popular historical romance 'for rest and relaxation', since discovering Georgette Heyer, as an adolescent. I adore GH; I've collected and re-read her novels for almost four decades. (I'm 49.) I've never collected or revered any other modern writer of popular historical romance - although I have read, and discarded, hundreds of (in my opinion, mostly inferior) writers. Until now! Ms Kinsale, I think you're really something special. I'm keeping your books. And I'll be leaving them around for my teenage daughters to read. I've even recommended them to my partner (no higher accolade possible, I assure you). He is NOT a reader of romantic fiction but there are so many facets to your novels and they are SO beautifully written; I think he couldn't help but be gripped, charmed, moved, thrilled and satisfied with your work - as I am. But then, he is a man - so possibly not.
I love your ability to convey the desperation and passion of your characters as they grapple with their personal demons. Love the adventure and thriller aspect. Love your forays into politics and religion. And you write so accurately, lightly and brilliantly about sex itself - a rare skill.
I'm now eagerly awaiting the arrival on my doorstep of "Midsummer Moon" and "Shadowheart". Particularly looking forward to "Shadowheart", having already met Allegretto. So far, I've wanted to mother him…
[38] Posted by Vixen on 05.28.2010
Apologies for mis-spelling Allegreto's name!
[39] Posted by laura kinsale on 05.29.2010
Vixen, I'm so glad you have been enjoying my books. I certainly could not ask for a nicer compliment than your post!
[40] Posted by Nancy on 06.18.2010
I am also new to your writing and have been working my way through your books. So far, I've enjoyed them all immensely! I think Flowers From the Storm is my favorite.
I particularly appreciate that you don't follow formulaic plots. You seem to effortlessly create characters with depth and emotion, using prose that is so beautiful at times. You do a great job of making me feel the emotions of your characters, especially when they suffer a devastating turn of events.
I liked Shadowheart very much and along with the other commenters thought Allegreto was a terrific character. Maybe I'm like an old piece of shoe leather but I didn't think the sex scenes were over the top at all. Honestly, what's with all that?
I was saddened to read that you've struggled with writer's block in Shadowheart and at other times. This doesn't show at all in your finished products - everything just flows. I'm selfishly hoping that you don't ever stop writing! I want you to write a lot more books!
Anyway, FYI, I'm a Kindle user and look forward to your books in ebook form. I'm sure you know this, but Amazon makes it easy for authors to self-publish ebooks through them. I don't think there's too much of a learning curve.
[41] Posted by laura kinsale on 06.18.2010
Thanks, Nancy! I guess writing is like many types of sports and performances—it should look easy. But it's not easy to do!
[42] Posted by k on 06.25.2010
Dear LK,
I read Shadowheart many years ago when I had just begun my journey in the world of romance novels…I fell in love with Allegreto almost immediately and for better or worse he has stayed in a corner of my heart always since then….
Today, several thousand books and characters later, nothing's changed…it's still love at first, second and last sight…and I'm sure that I don't need to recount to you of all people, the infinite reasons why that is the case..
Anyway, I'm telling you all this just so you know that no matter how bittersweet the experience of putting him on paper was, it was totally, completely and absolutely worth it!
We may never get to know each other in real life but because of him, you'll be in my heart too..FOREVER
[43] Posted by laura kinsale on 06.25.2010
Dear k,
Allegreto loves you too. ;) He told me!
[44] Posted by Annabel Joseph on 07.07.2010
Oh, k, it's so funny but after just finishing Shadowheart for the fourth time, I was coming here to say the same thing. I DESPERATELY LOVE ALLEGRETO! I'm lovesick for him!
What are we to do? ;-)
I think the reason Allegreto resonates so deeply with me is because he does these cold, heartless things, and yet you know that underneath he has these intense feelings and an almost feral understanding of love. He does all this evil and violence out of *love*. It's a brilliant paradox! I have read hundreds of romance books and Allegreto still sits right there at the top of the list of "most compelling hero of all time."
My fascination for Allegreto goes back to For My Lady's Heart. I love Melanthe and Ruck's story, but the poignancy of Allegreto's story in that book just stole me away. Then, when you published Shadowheart, here you gave us this incredible backstory of who Allegreto really is and where he came from… When we finally got into his POV, I think I almost hyperventilated with excitement to be inside that man's head. Sigh, sigh, sigh.
In discussing Shadowheart, my fangirl swooning for Allegreto aside, I have to bring up the moment at the end when Melanthe asks Allegreto if they are even. Oh my, so much emotion and chances and near misses and risk and memories rolled up in those simple words. I say this to everyone like a broken record but seriously, Laura Kinsale = story genius. No one else sets up those cathartic moments like you.
[45] Posted by laura kinsale on 07.08.2010
He's a sly devil, isn't he?
I really appreciate that you "got" Melanthe's comment to him at the end. :)
[46] Posted by Denise Herron on 08.15.2010
Ms. Kinsale,
I just finished reading "Shadowheart" and I must say that it is now my 2nd favorite love story after "FFTS". I just loved the dialogue between Allegreto and Elena. However, I do have two questions for you. What exactly did Lady Melanthe mean when she told Allegreto that now they were even and if anyone could do it he could? Also, on page 66 (bottom of page), it says "Eleanor" and not Elayne. Was this an error or was Elayne/Elena also called Eleanor? I had to finish the book in two days because I couldn't wait to find out what happened next. I hope that one day you'll write a sequel to their story.
I truly love all your books because your romances are so very different from the typical historical romance novels. The details in your stories are very reminiscent of Kathleen Woodiwiss. "Shanna" was the first historical romance (70s) that I had read and havent' stopped reading this genre since then.
I just started "Lessons in French" and am enjoying it immensely. Hope you respond to my questions. All the best…
Denise
[47] Posted by Denise Herron on 08.15.2010
P.S. I knew that I would forget something. My very favorite scene (besides ALL the love scenes BTW…beautifully written) was the church confession by Allegreto and what he says to Elena as he's leaving. Also, how Elena waits to confess her sins to the priest until Allegreto is able to do so. Now that is true love at its finest!
[48] Posted by laura kinsale on 08.15.2010
Denise, toward the end of For My Lady's Heart, Melanthe asks Allegreto to do something for her which is very very dangerous for him, both physically and emotionally. At the end of SH, she's asking if sending Elena to him balanced the scales between them for that.
It's funny you found a place where she is called Eleanor—indeed, in a very early draft that was her name, but I changed it fairly soon, so I'm surprised any remnants got missed. I'll have to make sure to correct it when I do the ebook version. Thanks for the catch!
[49] Posted by Denise Herron on 08.16.2010
Ms. Kinsale,
Thanks for responding to my questions. If Melanthe sent Elena to him, are we to believe that the whole abduction of Elena by Allegreto was pre-planned by Melanthe and that Elena was never really going to marry Franco although there was a written contract to that effect? I just feel like I'm missing something here b/c I didn't read the prequel to "Shadowheart". Also is the book title two words or one? The cover of the book says "Shadow Heart" but everywhere else it appears to be "Shadowheart". Just curious. Thanks for any clarification you can provide. All the best…
Denise
[50] Posted by laura kinsale on 08.16.2010
Too many spoilers to clarify here. ;)
The title is SHADOWHEART, one word. I guess it was too long for the cover.
[51] Posted by Denise on 08.16.2010
Okay. I guess I need to either re-read the first few chapters or read the prequel to fully understand. Any suggestions? I realize that you would be giving away too many spoilers, but it really bothers me not to fully understand what happened and what Melanthe meant by her comment to Allegreto. Could you e-mail me outside of this blog perhaps?
One of your most loyal readers…
[52] Posted by Faith on 09.13.2010
I have never commented on any author's site - but I have to do so here, and for this book. THIS IS THE BEST ROMANCE NOVEL BY A CONTEMPORARY AUTHOR I HAVE EVER READ - AND PROBABLY THAT HAS EVER BEEN WRITTEN.
And I don't believe that I am, for even a moment, exaggerating. The story, the characters, the skill with which you tell it - my hat's off to you!!! I studied and now teach literature, and I love books - all kinds and all the time :) - and I simply had to thank you for this book.
Since reading this book, I have read most of your other works as well, and while I would also say that they are definitively the top of what this genre has to offer, Shadowheart is unbeatable. Thank you for writing a real story (like all of your stories), not a formula, a story that has depth and reality while essentially being a fantasy.
To the critics - I truly do not understand what there is to criticize. Allegreto is REAL. I mean, honestly, haven't people had enough of the superficial 'dark' and closed-off heroes who are really just waiting to turn into puddy? Men, real men, have real, and often dirty, fantasies and motives. And we women like it - or we wouldn't be with men. They can be cruel and kind at the same time - just like us ladies. No person is black and white, and thus no character should be either, nor the 'sensual' experience between two lovers. Are there many women who are actually going to pretend that they didn't, at the very least, want to viciously bite their very first lover during that very first grueling experience? I know I did - and then I married him (quite happily) anyway :)
You know that saying - the line is thin between love and hate? This is true because without the ability to hate, we would have no ability to love. To understand and experience one of those two emotions, we have to have experienced the other. Thus, it is my belief that it is highly probable that someone who has (for whatever reasons) experienced a wealth of 'hate' and darkness, is also someone who would most strongly experience and respond to its opposite - love.
One final thing - I loved the fact that we don't 'hear' from Allegro until much of the story has already passed, for a few reasons. I won't list them now. Let's just say that the words "He was annihilated." have stayed with me these past two years, and will stay with me forever. With them, I was annihilated.
Once again, thank you for Shadowheart. It is the one book against which I have, and will continue to, measure all subsequent works I have read in this genre - and so far they have all been found sadly wanting.
All the best, and hope for more of your books in the future!
[53] Posted by laura kinsale on 09.13.2010
Faith, thank you. I actually don't totally feel I can take credit for Allegreto—of all my characters, he has always seemed to me to be the most real and determined to be himself, author, plot and readers be damned. ;)
Maybe he exists in a different brane plane, or whatever those latest string theorists have discovered, and somehow that plane touched this one in a pair of books. :)
[54] Posted by Faith on 09.13.2010
Wherever he was, is, or may be - thank you again for capturing him, however briefly, and for sharing him with us so eloquently. :)
[55] Posted by Elina on 11.07.2010
I first got a hold of this book when my friend Kaysey came to me at lunch and practicly shoved this dusty copy from her grandmothers attic under my nose. I have to say, my hat is off to you. I am a self admitted narrow minded reader. I rarely stray from my favorite genre, paranormal fiction. Shadowheart was the first book in it's kind to grace my dying eyes.
I loved it from the chickens to the castles. You have the kind of writing that forces me to keep reading even when I'm as exhausted as a penguin who wants to fly. Now, I can't get enough of your writing. But I have to ask a question. Where on this great green Earth can I kind your book Shadowheart?
I've searched in all the old book stores I could find when I realized it was out of print. Not a single one of them had a copy. Any advice from anyone who happens to get through me ramblings above?

Faith-I don't know if you'll actually read this but I absolutely NEVER had the urge to bite my first lover…but I did do a number on his arms with my nails =)
[56] Posted by laura kinsale on 11.08.2010
Hi, Elina! Dusty in a grandmother's attic? C'mon, 2004 wasn't THAT long ago! Was it? (I kinda lose track.) ;)
But the book is out of print, so for the moment you would have to find a used copy. However, I recently got the rights back for SH and several other books, and we will soon have a digital version of it and FOR MY LADY'S HEART available, along with MY SWEET FOLLY and THE DREAM HUNTER which have also been out of print for awhile. I'm hoping by early 2011 to have these four books available as ebooks.
So check back, or sign up for my newsletter to get word of that.
[57] Posted by Marylou on 05.19.2011
Reading these comments reminds me that I haven't read SH in a while. Every time I do I make it my favorite again! Ms.Kinsale,ALL YOUR BOOKS ARE TREASURES AND SHOULD BE AVAILABLE TO BUY NEW CONSTANTLY. My copies are hopelessly dogeared, but I hoard them and only loan them to trustworthy friends that will return them.(Its not the years, its the mileage). I now have a complete LK collection,thanks to scouring garage sales, thrift stores,and used book stores. I now have a new ereader and look for to collecting all your books to store on that,just to be sure. I also hoard all Judith Mcnaught as she is another favorite author,but no one touches you. Thanks so much for writing!
[58] Posted by Margaret on 07.04.2011
I started on Georgette Heyer when I was nine and have been a historical romance addict ever since - I read a LOT of authors, but I was practically in tears with joy when I came the first novel of yours I read (Flowers From the Storm). I thought is was AMAZING. Absolutely the finest writing of any historical romance author around today. I've been burning through every Kinsale book I can lay my hands on since then and each one I finish is my new favorite.
Like the earlier commenter, I read the note at the back of Lessons in French and was intrigued about the controversy around Shadowheart. I have just finished it and can say, honestly, it's my favorite so far (which given that my all time top ten is fairly stuffed with your books is saying something). Allegreto is such a complex character, the story so sweeping and the choices so hard - the story crawls into your heart and head and stays there. I've just bought Shadowheart and For My Lady's Heart for my sister, as a double bill - I thought she deserved a treat and couldn't think of a better one than a week with those two books. Well bloody done - another tour de force!
[59] Posted by laura kinsale on 07.05.2011
I'm really pleased to hear that, Margaret! Thank you for giving the pair to your sister, hope she also enjoys them.
[60] Posted by Suna Ketsuma on 07.29.2011
Laura, if this is truly you and i hope to god it is, then i have but one thing to say to you. As a newfound teenager reading this book a few years back, a game called Morra had never been more intense and heartfelt.
I opened the book randomly to that page exactly, my mother had it on the table and lost myself in giggles and well, i felt like Elena. You are amazing. If i could see Allegreto, i would draw him. Surreal, anime, hell I would make him a keychain if i could. He's outstanding and the character development you revealed in him related to me more than any other fictional character or character ever has. It's truly outstanding the work you do It's inspired me time and time again to practice writing, (i write improv series every night to my friend to save and mass edit into a story…very long stories..they take months to finish but worth it)
I'm rambling, dear god im rambling. i never ramble. I'm truly worried if this actually is yours and you read this long letter for you. there is a story i would like to tell as you told allegreto's. its taken more than 8 years to understand her and shes a fire that cannot be contained and it was fascinating to see another author literally write a story about someones life not just a tale. I've just purchased my lady's heart. if you had pictures of elena, allegreto or any of the characters for that matter, it would be lovely to see. i'd love to draw them, they've inspired so much in me.
You are far beyond words to me. Just graduated high school, read a glimpse of shadow heart 4 years ago, read it full 3 years ago and i'm rereading it now and ive read 14 chapters slowly in a day, of working. There are no words beyond amazing. One of the best reads i have ever read.
[61] Posted by Kathy on 07.29.2011
Suna: Since you loved Shadowheart be sure to read The Shadow and The Star. As you have probably by now realized ALL of Laura's characters are unforgettable. It would be interesting to get them all together at a gathering one night and see what happens. I think Samuel and Allegretto have some of the fictional genetic material. Or something. Love it all. Enjoy.
[62] Posted by laura kinsale on 07.30.2011
Suna, it's indeed me, don't worry! And I'm really touched by your comment. Shadowheart is a special and unusual book and I'm always glad to hear someone's heartfelt enjoyment of it.
Kathy, you may be right! ;)
[63] Posted by TLee on 10.05.2011
Laura, please free to decline to answer, but I am always wondering whether Elena is really Melanthe and Ligurio's daughter. I know Elena and Cara's mother married Ligurios's brother after Gian had their father tortured and killed. I was wondering whether their daughter who she says was suffocated at two was really secreted away to save her life but for her safety Melanthe was never told the truth. In my own imagination, I believe this could be the case.
[64] Posted by laura kinsale on 10.06.2011
I don't see why not. Glad you thought of it! ;)
[65] Posted by Ashley on 01.14.2012
i am so pumped to read this! i lose my head over the passion you pour into your books. SH is on its way & i can't wait to delve in! oh, Laura, you're work is like a potent dream.
[66] Posted by Ashley on 02.20.2012
I hear there was a lot of controversy surrounding this book. Some said it was not 'romantic' enough. On the contrary, I felt it was deeply moving & the love they shared was incredibly durable. I loved seeing Allegreto develop into the man he was at the end. He is probably the most helpless hero I've come across, ruled by his fear of hell and his desperation for absolution. I love the depths you reached with this one. It will always be one of my favorites. Thank you.
[67] Posted by Chapte on 07.19.2012
Hi Laura,
I have been reading your books and loving them ever since I read Flowers from the Storm a couple of years back. I think you have raised the bar in the romance genre. But still, I have never been moved enough to write a comment on your website until I read Shadowheart. Frankly, it took me a long time to read Shadowheart. I avoided it and even when I read it, I sometimes had to force myself to go on.
The lovemaking scenes between Elena and Allegreto… to me, they were not erotic, but rather eye-opening. Elayne and Allegreto are characters that I will never be able to 'understand', but I am so grateful to you for writing this book. It gave me a peek into a world that I would never have experienced otherwise (and I am thankful for that). I think someone mentioned that the theme for this book should be 'this too is love'. I agree whole-heartedly. It was just a reminder to me that love comes in all forms and shapes.
And Laura, the best thing about you is that when I read your books, I actually feel like I am reading a love story, unlike most of the other romance novels which are just about attraction, some misunderstandings and a happy ending.
I hope a new book of yours is coming out soon. You have spoiled me for all other authors.
[68] Posted by laura kinsale on 08.05.2012
Ashley, I'm sorry I seem to have missed your comments earlier. Thank you. It's interesting to think of Allegreto as helpless, but he was indeed helpless to save himself alone.
Chapte, I really appreciate your open-minded reading. It wasn't an easy book to write, either, but the characters created their own demands on me. Sometimes that doesn't produce the most popular or commercial read but it seems to be the only kind I can do, somewhat to my chagrin sometimes!
[69] Posted by Jai Joshi on 08.24.2012
Laura, this was actually the first of your books I ever read. I picked it up at the library, was intrigued by the title and premise, and gave it a whirl. Three days later, dazed and awed, I was re-reading like there was no tomorrow. The intensity, the depth, the fact that these characters had souls! It was just what I'd always been looking for in a romance book and never quite found until then.
I told all my friends about it, about how I couldn't get Allegretto's torment out of my head, how I couldn't stop feeling the longing Elena felt for him. I was so glad he made his confession in the end, and came to some sense of redemption but it wasn't perfect, he would always feel darkness inside him and that was truth. That was real.
Then I went looking for every single Kinsale book in the library and when there were still books unread I went looking in book stores and used book stores and other libraries in other areas. I was in the middle of my own book tour at the time and it took me about two years total to find and read all of your books in various places around the country. Since then I've read and re-read all of them countless times and love different things about them but Shadowheart will always remain special as my first Kinsale experience. It was unforgettable. Thank you.
Jai
[70] Posted by Maite on 11.23.2012
Hello Laura, I´m writting you from Spain. I would like to know if Shadowheart will be traslated in Spanish soon. In september I had been in New York and I wanted to buy the book, in English, but was run out.
For my lady's heart was the fist book that I read from you and I can't wait to read this history with the same characters.
[71] Posted by laura kinsale on 11.25.2012
Hi, Maite,
I'm not aware that Shadowheart has been translated, or that there are any plans to do so. That all depends on whether a publisher wishes to buy the rights, and so I don't have any control over it.
The English ebook edition of Shadowheart should be available at any ebook retailer. Hope that helps!
Commenting is not available in this section entry.