All books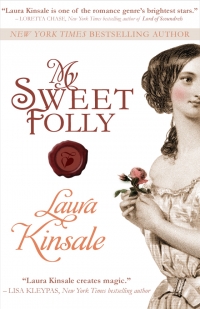 E-Reads 6/11/2013
Berkley Books 1997, 2006
ISBN-10: 0425209792
ISBN-13: 978-0425209790
buy now
My Sweet Folly
My favorite heroine, sweet Folly, finally available for the first time as an ebook and audiobook.
"My dear girl! I could never fall in love by letter. Though I have no doubt you are a notorious breaker of hearts, not to mention a princess in disguise, and if I were a few miles closer to Toot-above -the-Batch I would be in great danger. From the safe distance of another continent, I will admit to a modest desire to see how your pearl becomes you, even to know the color of your hair and eyes, but this is mere curiosity, I assure you."

Through letters, a lonely young wife grows to love a man thousands of miles away. But when she finally meets him in truth, reality is turned upside down. She cannot find her own Robert in the frightening stranger who claims her love.
(And audiobook!) Look for it in July/August 2013!
Discuss this book
Setting:
England, early 19th century
Mascot Animal:
Toot the ferret
Laura's Comment:
Some readers have complained that the prologue of My Sweet Folly was wonderful, while the ending was disappointing. The prologue was one of those gifts of the Muse—as soon as I finished it, I knew I could never write a book that would live up to the promise of those beautiful letters between Folie and Robert. I tried, but this book was completed at the absolute worst of the conflict between me and my muse (you can read more of this ongoing battle in Laura Makes Tea). I actually have little memory of the book myself—people mention scenes to me, and its as if I never even read it! I think I was in a state of creative shell-shock at that time in my life.
So I'm deeply honored that many readers call this one their favorite, and that it was nominated for Best Long Historical and Favorite Book by RWA. I have no doubt it could have been better, more "even" in execution overall, but I feel fortunate that it even got finished. Folie, with her ferret and her humor, remains my favorite heroine of all, just edging out Leda of The Shadow and the Star.
Recognition:
Romance Writers of America—Finalist, Best Long Historical of 1997
Romance Writers of America—Finalist, Favorite Book of 1997
Laura's Fave Review:
"Please. Go to the bookstore. Sit down in one of those cushy chairs that the big chains have nowadays and read Chapter One. If you don't find yourself plunking down $6.50 for this book I will be very surprised." All About Romance

(Ask my muse and she'll claim the Prologue alone is worth the price. ;) LK)
Old Covers:

Discuss this book
[1] Posted by laura kinsale on 01.08.2010
(Comments closed due to spam. Feel free to email me or make contact on Twitter or Facebook.) All opinions are welcome, positive or negative, but civility and polite language are required for comments to remain. Political or religious references are not allowed, unless directly related to the book under discussion. I do answer questions but I seldom give interpretations about my books or characters, because I enjoy hearing what readers see in them. These comments and discussions replace my old forum at The Terrace. WARNING: Book discussions may contain spoilers.
[2] Posted by Maya M. on 01.16.2010
This was my first Kinsale and I came to it with skyhigh praise from all and sundry, meaning I took to the first chapters with several pounds of salt (not just a grain) in mind. I needn't have feared. I loved Folly, and the ferret, and the excellent misunderstood hero, and the stepdaughter, and the valet…
All just wonderful and let me move on to my next Kinsale with a much more open and joyous frame of mind.
That turned out to be 'Shadowheart', which I closed relatively soon after I opened it. But 'Folly' made me undeterred, and I moved on to 'Prince of Midnight' which met all expectations. Now in the middle of 'Lessons in French' and absolutly delighted.
[3] Posted by Michael on 01.22.2010
I'll admit that the opening letters between Robert and Folie are my favorite part of this book (as appears to be the case with a lot of other readers too). That being said, the entire novel was very good. Folie was an excellent heroine and the descriptions of Robert's time in India were very evocative. And don't get me started on how intense and sensual the wedding night scene was….
[4] Posted by Rebecca Cardamone on 03.09.2010
$ 6.50?! ;-)
[5] Posted by eKathy28 on 03.13.2010
Having just re-read this book as part of my current Laura Kinsale marathon, I suggest that this book is better the second time around. I confess the first time I read it I was a little bit disappointed. I think I loved it this time because of the way Robert develops into a truly sympathetic character in the end. The scenes of him working with Lander, knowing that he has a friend for maybe the first time in his life were heartwarming. I know Laura does not do much in the way of sequels, but I have this nagging feeling that Lander and Melinda deserve their own adventure. Lander sure grew on me, too. And to think he has all those brothers. One of the things this book points out is the gifted way Laura has with the heart stopping scene. Robert's last letter to Folie. The acid in S.T.'s ear in "Prince of Midnight." Arden throwing Zenia on a horse as he is captured. Amazing stuff.
[6] Posted by juliette on 05.13.2010
do you know what? I actually like the cover. Im not into the long haired sexy looking guys on the front coers of most noves. This time, I could imagine what he looked like and I liked it!
[7] Posted by k on 06.25.2010
ALthough the book itself was beautiful yet dysfunctional in its own way(just like robert as a person); far from perfect but most definitely worthy….it was the letters that made me cry…
[8] Posted by Nancy on 07.01.2010
I just finished this book and really loved it. I loved Folie and thought she was a remarkable heroine. Sometimes I didn't like Robert, at others I liked him very much, and at all times I found him compelling. In the end, I thought it came together quite nicely. I especially liked the epilogue - those sweet letters stayed with me for quite some time.
[9] Posted by Liz on 07.16.2010
I didn't enjoy this particular story as much but I still thoroughly enjoyed the writing and the characterization. I was supremely irritated with the way Robert kept treating Folie, even knowing what his first marriage was like. I know that I would not have reacted with the same patience that Folie showed, but then we can all learn something from our heros and heroines I guess.
Still got some tears from me, particulary when Robert was at the Highflyer thinking about his dog. Oiy.
Even though this is not my fav of Laura's, it is still head and shoulders and torsos above much of what is out there lately. You rock Laura!
[10] Posted by flip on 04.02.2011
Love this book. Unfortunately, I have a tendency to gobble Ms. Kinsale's book at first reading. This is a book that I enjoy more with each rereading. The letters between Folie and Robert were so wonderful.
[11] Posted by sarah on 01.19.2012
When, when, WHEN is this coming out in ebook format?! Please tell me it's soon!
[12] Posted by laura kinsale on 01.19.2012
Wish I could. No current plans for it, though. :(
[13] Posted by Doresa on 05.03.2012
Ms. Kinsale;
I am in the middle of finals and without a thought - I was thinking that as soon as I hand in my final project I was going to find a bottle of scotch and a good pleasure read. And there you and your books came to my mind immediately. I can't remember reading My Folly, but I DO remember The Shadow and The Star which is by far one of the finest books written - fiction or otherwise (my lowly but considerable opinion)
I read it almost 15 years ago! I take it out every 2 or so years and reread it from cover to cover. I laugh and cry and cheer EVERY time at the same places. I know you must be tired of getting asked this but is there a continuation to Samuel and Leda's story. I was always disappointed in the Gryphons after "the night" - with Samuel not Leda. I don't know why but I feel there's more.
Anyway, can't wait for your next if there is one; I appreciate it that you don't spit them out- BUT. I love your stories, can't wait for a new one.
Take care.
[14] Posted by Doresa on 05.18.2012
So sorry, you kindly responded to my comments and I can't get to them. How?
[15] Posted by laura kinsale on 05.19.2012
I'm sorry, Doresa, I was deleting some spam and I may have deleted
my own post, I'm not sure!
In any case, thank you! I love it that you looked for my books as something to enjoy after your hard work. Good luck on your finals!
I haven't written more about Samuel and Leda.
[16] Posted by slebourg on 10.29.2013
I notice that there haven't been any comments in a while, but I want to write anyway. I just finished this lovely book. Some people seem to like the prologue, but think that the rest of the book doesn't live up to the promise of those charming letters. I disagree. I liked the whole book.
Folie is a wonderful character, intelligent, witty, profound in her depth, but also innocent. I was deeply moved by the effort that Folie put into the relationship, especially when she is thinking that she will eventually be ripped to shreds by Robert's cruel comments; then she remembers that, while her relationship with her stepdaughter was hurtful at first, it later became close and loving. Robert is certainly "messed up" in many ways, but we eventually come to feel sympathy for him. I think it is also very moving when (near the end), Robert realizes that his first wife had been sexually abused by her father (that seems to be the implication), and perhaps understands her a little more. I also liked the last little joke about Folie's "kitten", which adds the perfect final touch of humor. Thank you for a great book!
[17] Posted by laura kinsale on 10.31.2013
Hi, Slebourg, I'm so glad you took the time to write a comment! I love Folie myself, and I'm always really pleased to hear other people do too. I do think they are a pair that will have a very happy ever after. Very happy you enjoyed it. Laura
[18] Posted by sarah on 11.09.2013
THANK YOU so, so much for making this book available in eformat! I'm very excited to read it - I love all your books and this will be no different. The only question is, what am I to do when I've reached the end of all the published Laura Kinsale books?
[19] Posted by laura kinsale on 11.10.2013
Glad you are enjoying them, Laura. As to what to do when you've reached the end, well…besides waiting around for me to write more (which I am), you can listen to them as audiobooks, read by such a wonderful narrator that each book is an entirely fresh experience even if you've read them before!
See the audiobooks at http://www.hedgehoginc.com
Commenting is not available in this section entry.