All books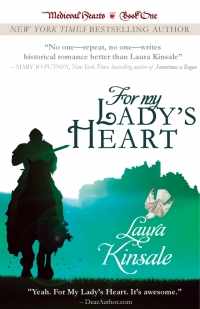 Ereads, 2011 POD
ISBN-13: 9781617564802
ISBN: 161756480X
Berkley Books 1993, 2004, 2005
ISBN-10: 0-425-20659-9
ISBN-13: 978-0425206591
buy now
For My Lady's Heart
Ruck, the mysterious Green Knight, and his emerald be-decked Princess Melanthe: a powerful, devious woman desperate to reach refuge, and a knight—a true knight who never wavered once he swore his heart, a man who could not comprehend deceit. Finally available again in ebook format, including both the full original version and a condensed version without the Middle English dialogue for readers who prefer a more streamlined, modern read. The new ebook cover is shown on the left.
This is the prequel to my 2004 release, Shadowheart which tells the story of Allegreto the young assassin.
Ebook readers can choose between two versions of the story. Both are included only in the ebook. The first is the original published novel filled with deep period detail, including Middle English language and grammar, and a glossary. The second, included only in this ebook, presents a condensed version with modern words for dialogue.
If you've ever wondered what Ruck's voice sounds like, speaking Middle English, you'll be surprised to find it's wonderfully easy to understand. Have a listen!

Available on Audible.com, Audible UK and iTunes (scroll down to audiobooks.)
For My Lady's Heart is also available in the original version as Print-On-Demand, a high-quality trade size paperback with the newly designed cover.
Discuss this book
Setting:
Medieval England, 14th Century
Mascot Animal:
Gryngolet, a gyrfalcon
Laura's Comment:
Some ten years ago, I read a medieval poem full of color and adventure and knights and mysterious ladies. It opened an unknown world to me, a place of wild dangerous forests and white castles, of mud and glorious spectacle, a time when blackbirds really were baked in pies. To do justice to that world, I wove the music of their own medieval words into the dialogue. My favorite response was from a reader who wrote that, at first, she had been a bit dubious about the Middle English, but by the end of the book, she was wondering why the man on the six o'clock news didn't talk that way!
I was determined to make my characters' words clear and understandable in the text, even though readers might never have come across them before. But in later editions (2004 and after) of For My Lady's Heart, I've added a glossary, so that you can be certain of their meanings if you have any doubt. In compiling it, I enjoyed revisiting that world and realizing again how much history and how many shades of meaning stand behind the words we have forgotten and the words we still use. If you are having a little trouble with the rhythm of Middle English words, just sound them out phonetically. Sometimes you'll hear the echo of the modern word that's come down to us today!
As I wrote about Ruck and Melanthe, a shadow-figure appeared in their story: Allegreto, the young assassin who served his father's cruel ambitions. By the time I reached the end, I knew that I must eventually give Allegreto his due. Many readers wrote to ask for his story. It took me a long time, but Shadowheart was finally published in 2004. It is dark and beautiful—like Allegreto himself—and I hope you will be as fascinated by his elusive and compelling character as I was.
In order to clarify some of the background and family relationships between the two books, I have made some very minor additions to For My Lady's Heart, but no alterations to the language or the story itself.
Another note on the Middle English—there seems to be a rumor that I had the dialogue "translated" into ME by a scholar. This isn't the case. I wrote the dialogue myself, pretty much entirely in Middle English, or at least my attempt at it. Suzanne Parnell generously read the completed manuscript and helped make sure the grammar was as correct as we could make it, the same way an editor would, which is what I was thanking her for in the Acknowledgments (and still do!). There was never any book called "Fun with Middle English," that was just a joke, because we both enjoyed that process. After that, I did go back and take out a lot of ME words and replace them with modern equivalents to make it more readable. So yes, there was an original manuscript with most of Ruck's dialogue in ME. And yes I might have it around here somewhere, though it may not have survived—the only surviving one is probably the one that got sent to the publisher, which is what the book became.
Recognition:
Romance Writers of America Rita Award—Finalist, Best Long Historical Romance of 1993
Laura's Fave Review:
"In many of Kinsale's romances, it is the hero who is supremely tortured, but in For My Lady's Heart , it is Melanthe who desperately needs to be saved: saved from her persecutors, the houses of Riata and Navona, who are determined to get the Monteverde holdings by hook or by crook; saved from the bitter memories of her past; and ultimately saved from herself….Ruck is the perfect hero to redeem her - honorable to a fault, bound to a rigid code of chivalry, gentle and kind. He may have lived celibate for thirteen years, but he more than makes up for it with his vivid imagination. The love scenes were both touching and funny - and really made me laugh about the side-effects of confession and the detailed questions of nosy priests, who unwittingly taught Ruck quite a bit about love-making!"
All About Romance
Old Covers:
Discuss this book
[1] Posted by laura kinsale on 01.08.2010
(Comments closed due to spam. Feel free to email me or make contact on Twitter or Facebook.) All opinions are welcome, positive or negative, but civility and polite language are required for comments to remain. Political or religious references are not allowed, unless directly related to the book under discussion. I do answer questions but I seldom give interpretations about my books or characters, because I enjoy hearing what readers see in them. These comments and discussions replace my old forum at The Terrace. WARNING: Book discussions may contain spoilers.
[2] Posted by Michael on 01.17.2010
My favorite scene in this book is when Ruck is befuddled as to why Melanthe is sleeping so much, never realizing its the first time in her life that she's ever trusted someone to watch over her while she sleeps. A truly wonderful, and funny, character moment.
[3] Posted by Rachel on 01.18.2010
I really liked that as well! Very illuminating of both characters for the reader.
Sort of around that time, when they were "tenting" it, she threw sand at him. Later, when he remembered that - along with a few of her other childish moments - I was also touched by him trying to parse out her contradictory behavior. For someone that was so practiced at hiding his true self I don't think it would ever occur to him that someone might have to hide their true nature. In fact, I wonder if that ever became something he understood.
[4] Posted by Mary on 01.18.2010
For My Lady's Heart has been my favorite book since I first read it and I have read it many times since. Of course I like to think about it and when I learned about William the Marshall (1146-1219), who was famous in his time for being the most perfect knight – chivalrous, honorable, and an excellent warrior, I realized Ruck is his literary equivalent. Ruck, like the Marshall, has a sturdy body and robust constitution, unquestioning belief in honor and religion, and undefeated warrior skills. Ruck, also like the Marshall, supported himself for many years by competing in tournaments and never lost a match. Did you think of William the Marshall when you created Ruck?
[5] Posted by Rachel on 01.18.2010
I'm not sure if it's bad form to mention another author in these discussions (please tell me if it is:) but a British author (historical fiction/romance) recently wrote a novel devoted to William Marshall and I think it was released stateside last Sept by Sourcebooks (happy coincidence). If it's alright I'll come back later and post title and author. I haven't had a chance to read it yet but I like her other books.
[6] Posted by laura kinsale on 01.18.2010
Don't hesitate to mention other books and authors in the discussions. I do ask that we always conduct ourselves when posting as if we're speaking to someone directly (because you never know, we may be!)
[7] Posted by Rachel on 01.19.2010
Ok, great! The book is the Greatest Knight by Elizabeth Chadwick. I think she also includes lots of bio and research information at her site but it sounds like you already know a lot about William Marshal. :)
[8] Posted by Mary on 01.23.2010
Thanks for the info - I will look for it. The book I just finished is William Marshall by David Crouch if you are interested in his biography.
[9] Posted by Rachel on 02.04.2010
Thanks, Mary! I'm always interested in stuff like this. In the same vein I found my copy of Sir Gawain and the Green Knight which I've been wanting to re-read since the last time I re-read FMLH. I love when one book evokes another; for the re-reading fun and because then I start to look at the two books together and get more out of my readings.
[10] Posted by eKathy28 on 04.06.2010
In the ackknowledgments: I wept for every "arn' and "ert" and "hopande" that wenten, forsooth by cause and our moder tonge mei maken swich lufflych layes, and gets inside your head and sings."
It sang for days after reading this and I found myself want to say getten and adding en to all kinds of verb, though that was not any kind of English, old or new, just wanting to keep the music going. Haps we should talk like that more. Sigh. Another set of amazing characters from an amazing world of characters. Lufflych.
[11] Posted by Geena on 05.04.2010
This is truely my favourite book that you have ever written. When I first bought this book I was a teenager and found the language difficult to get past and did not finish it. Fast forward a couple of years later and I (finally matured) picked it up off my shelf again. I didn't put it down until I was finished. I cried and fell in love with both Ruck and Melanthe. I love that she is the one that is flawed and imperfect. I have read it again several times and love it thoroughly. Thanks for providing a great story.
[12] Posted by laura kinsale on 05.05.2010
I'm so glad you gave it a second chance, Geena. Sometimes the language is a stumbling block until a reader just relaxes and doesn't try to "understand" every word. Then they find that they do, because the spelling in almost phonetic.
[13] Posted by doreen on 08.01.2010
It's so difficult to choose, but I think this book is my favorite. I expecially enjoyed how we know so little of the heroine's motivations in the first third of the book, yet her actions speak to some hidden trauma. Masterful weaving in of the backstory.
[14] Posted by Nancy B. on 08.05.2010
When I was in high school (many moons ago) we had to read Tennyson's Idylls of the King. Everyone HATED it - except me. I was enthralled by the language and the tone. Then along comes your book to enthrall me some more! I was mildly disappointed that there wasn't more of the Middle English but, having learned from my high school experience, I know not everyone feels the same and that the story must be made more accessible to a broader spectrum of readers.
I thought the part where Ruck has to give up his wife so she can become a nun was absolutely riveting, and somewhat chilling.
[15] Posted by Mehmood Khan on 08.22.2010
I love everything about this book.
It's characters, it's plot, it's prose have been blended with master craftsmanship. The prose in this book is like intoxicating poetry, especially the ones in old English.
The plot in general may have been used by a lot of writers but no one as magnificently as Laura Kinsale.
My being her ardent fan rests only on this enchanting book.
[16] Posted by laura kinsale on 08.26.2010
Thank you, NancyB and Mehmood!
[17] Posted by martine on 12.18.2010
This book was my introduction to LK's lufflych writings. I remain riveted by her characters, who struggle against internal flaws, or march at odds with their time and culture. Her historical settings are flawless and her characters so real. Her writing is clear, but not condescending; I can understand everything in modern terms, despite the perspective being that of a much earlier time.
Melanthe is strong, intelligent, Machiavellian, and ruthless by necessity. Ruck is a beautiful foil for her with his stoic adherence to a demanding code of ethics. Brava, brava.
[18] Posted by Mehmood on 12.19.2010
Can anyone make a stunning movie out of this beautiful story?
I guess not, it wont do it justice.
Maybe watching a word by word, plot by plot long running TV series will satisfy me.
[19] Posted by laura kinsale on 12.22.2010
Martine and Mehmood, thank you! It would be a fun movie, wouldn't it?
[20] Posted by D'Ann Linscott-Dunham on 02.11.2011
My all time favorite book! I have never forgotten this hero in all of those I've ever read!
[21] Posted by laura kinsale on 05.18.2011
D'Ann, that makes me smile. I still love Ruck; he's kinda special.
[22] Posted by Marylou on 05.19.2011
This was my first Laura Kinsale novel,I plowed for about 100 pages,not understanding much,but then I was hooked. Whenever I loan this book,I always caution the reader to give it at least 100 pages,because its so worth it. Now, whenever I reread it I find I enjoy these first pages as much, if not more as the rest of the book! My praise for Ms Kinsale is that I never tire of reading her prose. I keep this book by my bedside so that I can always find it for a quick fix of truly masterful story-telling. I love many parts of this book,but I'll just mention Ruck's telling of the dragon-slaying poem scene. The poem, Melanthe's rapt attention, her anger that he has lied,and his promise never to speak falsely to her again,swearing on her heart and no other,slays me every time! Sigh!
[23] Posted by laura kinsale on 05.19.2011
Glad you hung in there for the first 100 pages, Marylou!
In the upcoming ebook edition, I decided to add a "condensed" version, with more modern dialogue. Readers can decide which they want to read, the original or the condensed version.
[24] Posted by Marylou on 05.19.2011
Thanks for responding! I look forward to the ebook version,not because of the changes, but because I am happy to read anything you've written. In my opinion FMLH is perfect and cannot be improved. I have reread the beginning many times and enjoy every word. You are a Master!
[25] Posted by Geena on 06.12.2011
I have a song for the movie version of the book…..I have always thought that Sarah McLaughlin's "Fear" fit with Melanthe's point of view so much.
[26] Posted by laura kinsale on 07.05.2011
Geena, I haven't heard that song, I'll have to listen to it. Thanks for the tip.
[27] Posted by TLee on 10.05.2011
Laura, I have recently discovered you as an author by way of kindle, and what a find. My favorites being 'Flowers from the Storm' 'For my Lady's Heart' and 'Shadowheart'. Allegreto so haunted me just in the story synopsis, that I read them out of order reading 'Shadowheart' first. I then put off reading 'For my Lady's Heart' because I couldn't stand to read about his earlier pain and the father who sculpted him. I have just finished it and wanted to immediately write and say thank you for your stories. The period, the circumstances, the people are created with such vividness and heart that they are now all forever real in my imagination.
[28] Posted by laura kinsale on 10.06.2011
Thank YOU, I'm very glad you enjoyed them. Also glad that readers new to my books have found them in the ebook formats! That really pleases me.
[29] Posted by Ashley on 01.18.2012
i haven't finished it yet, but i love this book so much already i had to tell you. it was a little beyond me at first, but when i went back everything came together. i absolutely love the Melanthe, Allegreto & Ruck relationship… my favorite part so far is when she taunts Allegreto about the plague & you get to experience the depth of his fears & her control over him. what a sticky situation! i also love how he clings to Ruck. his immaturity and untamed passions are appealing as Ruck's composure and Melanthe's indifference. Ah, i love them all. I can hardly wait to finish! Thank you for writing this.
[30] Posted by Ashley on 02.08.2012
Ruck is the most wonderful endearing fictional creation to have ever graced the earth! he is what all men should aspire to be. i adored him & this story. his pains and deep-rooted morality make him human. i do not regret the tedious prose or indulging in it a single moment. it was a beautifully written story. i love the creativity of it & the haunting sort of spell it inspires. i will cherish it always!
[31] Posted by laura kinsale on 02.08.2012
Glad you stuck with it, Ashley! Thank you.
[32] Posted by Kumudha on 03.23.2012
I have read all your books except My Sweet Folly. I found all of them beautiful but this book For My Lady's heart has touched my soul. My hubby works abroad and i am left alone with 2 small kids for long periods of time. I cannot sleep well due to my worries and kids who are restless sleepers. when he is back on vacation for a month i can sleep anyhow, anytime, any place. This is trust on subconscious level that he will feed them, take care of them and let me sleep. I talk to my family and friends about this but they don't get it. Melanthe can sleep with Ruck watching over her is a wonderful thing to read. I wondered how you understood this. I was also deeply moved by the dragon scene. Thank you for writing this book.
A loyal Fan from Mumbai,India
[33] Posted by laura kinsale on 03.23.2012
Kumudha, your comment made me smile. I don't know, it just seemed right for Melanthe. My husband just came back from a trip last night, and I too sleep better. :)
[34] Posted by Carolyn Byerly on 09.25.2012
Do all of your heroines have black hair? I suppose the heroes do too. Very interesting. I haven't read all your books,but I'm going to look for them now. I really enjoyed For My Lady's Heart and Shadow Heart.
[35] Posted by laura kinsale on 05.19.2013
Wow, Carolyn, obviously I missed this!
Some of my heroines have brown hair. I think only one, Roddy in Uncertain Magic, has blonde hair.
[36] Posted by Allie on 10.11.2013
I just finished this today—I've read almost all your books but I kept a few back (For My Lady's Heart and Shadowheart) because I wanted to have a few Laura Kinsale's in reserve for emergencies (I only tend to read romance when I'm anxious about things in my life and there are so few romance authors that have your panache). I must also confess that I've never liked Medieval romances so that's why FMLH and SH were the ones I chose not to read.
Well—I adored this book. I loved the chivalry and the poetry. While the language did take me about 100 pages to get used to—it really won me over in the end. Ruck was so dreamy—such a truly good person while not being boring at all. I also loved how smart and brave Melanthe was—I think she's the toughest heroine in any romance novel I've read.
My favorite section was when Melanthe and Ruck were separated from everyone on the road and it was kind of like a Medieval "It Happened One Night." So much fun. And now I have only Shadowheart in reserve for the next time my life goes nuts. Oh, well!
[37] Posted by laura kinsale on 10.12.2013
Love to hear you gave it a try and enjoyed it, Allie!
I'll also recommend the audiobook read by Nick Boulton. The language becomes beautiful and easy to understand when it's read aloud by an Englishman! It's unexpected and very cool!
[38] Posted by SS on 10.14.2013
Since the commenting section is closed for Shadowheart, I hope you don't mind that I post here since I just dusted both books off my shelf after almost 10 years to read again. At the time, I was a college student and I wrote you the following in an email:
Dear Laura,
I have never before given into such whims as this so bear with me if this is just another mundane fan letter to you. I have just put down your book (SH) just a couple hours ago and that broken-hearted feeling has not left me yet. Dont get me wrong, its not a sad broken heart but one of deep connectiveness to which has drawn you as a reader to live and breathe alongside the characters.. and then when the book ends you are sad it is done but happy that you experienced it. Does that make any sense?
You see, sometime during my early teenage years I had read an excerpt of "For my Lady's Heart" and really really wanted to read it but never was able to find it. (Lets just say back then unless the library had it there wasnt much of a means for me to find the book) However, come last month I saw it on the shelf and vaguely felt a familiarity with the title. So I bought it, read it, loved it. Low and behold.. the sequel was released just shortly afterwards. So I got to live through Ruck and Melanthe's enchanted tale and then Allegreto and Elena's story pretty much back to back. I am amazed at how you crafted the two tales together with such precision wtih so much time in between writing them. In fact, it seems the magic accumulated even more in Shadowheart and I personally found it more endearing and intense… and unique. However, I still love all the characters. You really do know how to bring to life the men of our dreams- conventional or not! as well as women to admire. Now there's the lingering expectations of stories for Dario or little Matteo! *wink wink*
All in all, I wish to thank you for allowing me the chance to escape to enchantment. For a workaholic student like myself, it really means the world. Thank for you for your talents and for not giving up on sharing your creative visions and story telling. Keep up the wonderful work and best of luck in your future writing.
Sincerely yours,
****
Now, as a wife and new mother in my 30's, I found revisiting these two books has brought me the same heart felt experience as it did a decade ago. I still hold to my thoughts I shared with you. I still love both stories, and this time around I have gained even further understanding and further appreciation of the characters. In response to some other comments by readers on SH regarding the lacking of Allegreto's POV on why he fell in love with Elena… I personally think he was fond of her long before he kidnapped her. That would explain how sad he seemed when she didn't remember him. In FMLH, as a child she even said: "Dan Allegreto says that if I wish to marry him… I need to learn to be a lady first.." Harmless and cute, but it set the foreshadowing that they are meant to be together in the future. Thank again for two wonderful stories, Laura.
[39] Posted by laura kinsale on 10.14.2013
So glad you posted, SS! (Sorry about closing the Shadowheart comments, spammers seemed to have got hold of that particular thread and I just got tired of fighting it there. I'll re-open it after a while and see if they've forgotten it…)
I'm really pleased that you enjoyed both of the books. As I mentioned above, even though I wrote them long ago, they've both come alive for me again too with the release of For My Lady's Heart as an audiobook (Shadowheart audio coming in November). To hear for the first time what the dragon story really sounds like, read by an English narrator, was an intense and wonderful experience for me. Middle English sounds quite normal when read by Nick Boulton!
I'm looking forward to revisiting Allegreto and Elena in audio too.
[40] Posted by PG on 03.12.2014
Other non-brunette heroines: Callie in "Lessons in French" (redhead); Olympia in "Seize the Fire" (blonde).
Commenting is not available in this section entry.