« view all posts
Hubert Proved Himself a Splendid Gentleman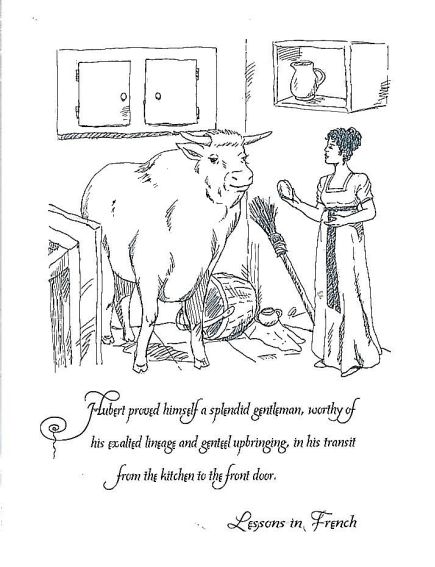 I have sent emails to the winners. They are:
Grand Prize winner: Jessica M. D.
4 Extra Prizes: Melody, Elizabeth E., Patricia K. and Rose
We also held a special surprise drawing for those at the chat of another limited edition Rutledge print. The winner (after a wild and crazy draw) was Diane.
Congratulations to all!
Here is a quick scan of the original artwork by Charles Rutledge from LESSONS IN FRENCH. It's the scene of Callie and Hubert in the kitchen, on the lam from the constable.
The original is 11x17, so for the moment it's a bit blurry at this resolution, but the text, from Chapter 10, says:
Hubert proved himself a splendid gentleman, worthy of his exalted lineage and genteel upbringing, in his transit from the kitchen to the front door.
The font is Platthand. I felt Hubert deserved an H as impressive as Himself.
The limited edition prints will be scanned at high resolution and reduced to 9x12. They will be very crisp and clear, and pencil signed and numbered by the artist and by me. This has been a fun and educational process, getting a work of art like this created.
When I have a higher res scan of one of the artist proofs, I'll give it a permanent home here.
Commenting is not available in this section entry.
[1] Posted by EK on 01.29.2010
Yay Chas!
[2] Posted by laura kinsale on 01.29.2010
What a bull.
Congratulations to all the winners!
[3] Posted by Keira Soleore on 01.29.2010
The final work here is so cool. Just adore that expression on Hubert's face. Would never have thought people would get excited over a bull. Bovine, OK? But Hubert has such character, such panache!
The chat was great fun! It was great to meet your mom, Chas, and EK! (And you, mais oui!)
[4] Posted by Wendy on 02.04.2010
Love the font, the print, and can't wait to read the book!