« back to all news and schedule
1.1.10 Read about Laura's NEW novel, Lessons in French
Laura Kinsale's newest historical romance is a January 25, 2010 release
The wait is finally over! Sourcebooks Casablanca is excited to present Lessons in French, a delightfully funny and sexy historical romance from New York Times Bestselling author Laura Kinsale, in stores February 2010!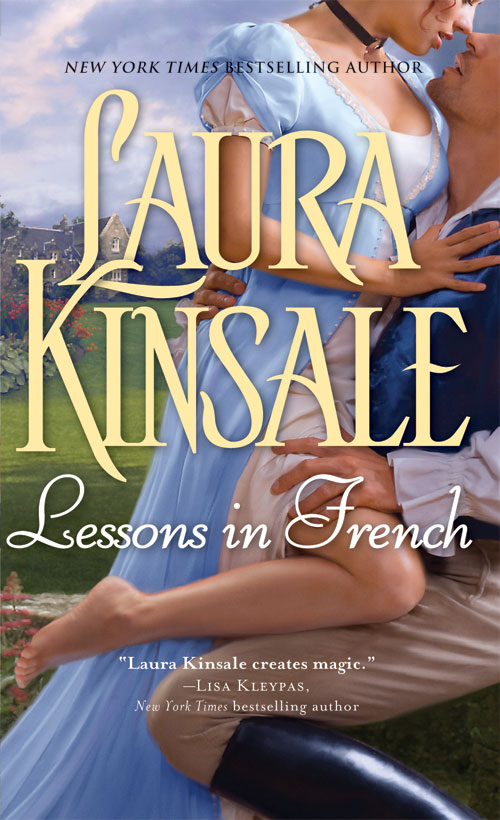 If you love those stories where the shy, plain girl gets the hot dashing guy in the end, Lessons in French will be your kind of book. Lady Callista ought to be quite a catch—she's the daughter of an earl and wealthy to boot–but she's been left standing at the altar by three different men. She's long ago resigned herself to spinsterhood, and her greatest desire is to win the silver cup at the agricultural fair with her prize bull, Hubert. That's until Trev d'Augustin waltzes back into her quiet life. The son of French émigrés, he was run out of town by Callie's father years ago for stealing a bit more than a kiss from her. Callie and Trev share quite a past, in fact, full of secret adventures and harebrained antics that no one else knows about, not even Trev's very shrewd mother. On his return, Callie is instantly drawn willy-nilly into scandal and deception–the sort of deception that involves trying to hide a huge bull under the bedsheets. She goes from having no suitors to having more than she wanted. And in the midst of these escapades, she finds herself falling in love again with the worst possible man for her.

Read what people are already saying:
"A truly gifted writer, Laura Kinsale is one of the romance genre's brightest stars."
—Loretta Chase, New York Times bestselling author of Don't Tempt Me
"If there is one thing I wish for every romance reader, it is to experience the singular and extraordinary pleasures of a Laura Kinsale novel."
—Lisa Kleypas, New York Times bestselling author of Smooth Talking Stranger
"Laura Kinsale has had a tremendous influence on my writing. If we're talking about stars in the firmament of the Romance world, she's Ursa Minor—the one you use for finding your way."
—Joanna Bourne, national bestselling author of My Lord and Spymaster
Lessons in French | 9781402237010 | Historical Romance, Mass Market Paperback | $7.99 U.S. /$8.99 CAN
Download the first chapter of Lessons in French
Q&A with Laura Kinsale
LESSONS IN FRENCH is a change in style from many of the novels you've written previously, such as Flowers From the Storm and Shadowheart. How did you decide to write a romantic comedy this time?
After spending a long time on a very dark, intense book, Shadowheart, I wanted to give myself a break and revisit some of the lighter styles I've used in the past—what I call my "hedgehog humor." Lessons in French is a Regency in honor of all the enjoyment I've gotten over the years from Georgette Heyer's wonderful novels.
Lady Callista is a painfully shy but wealthy wallflower who's been jilted three times. Her greatest desire is to win the silver cup at the agricultural fair with her gigantic prize bull, Hubert. But when Callie's only old flame returns from his long and mysterious absence, her quiet spinster life turns upside down. Hubert vanishes, one of her former jilts comes back to woo her, she must disguise herself as a sophisticated French-speaking Belgian lady, and when her bull takes the town by storm…as they say, chaos ensues!
So was it fun to write?
That's a very good question. While it's true that for me writing pure humor is a bit harder than writing deeply emotional scenes, there's always been some fun in my books, even the ones with dark themes. I very much enjoy my characters who look at the world from a slightly skewed and amusing viewpoint. So it was fun but it was also a challenge for me as a writer. Which is just what I like the best.
So perhaps "fun" isn't the right word—fun is eating birthday cake. What this book returned to me was my joy in writing.
I hope in Lessons in French I've managed both whimsy and deep emotion; it's just tilted more toward the light this time. My editor, Deb Werksman, called it funny and poignant, and I love that description. I hope readers will too.
You finished the manuscript quite some time ago. Why has it taken so long to hit the shelves?
At the time I finished it, I think my reputation for "dark and intense" led many editors to focus beyond this manuscript to future books in my "usual" style. I didn't feel just then that there was a publisher who would give this particular book the attention it deserved. So I decided to put it away for awhile.
That turned out to be an excellent decision. Sourcebooks's enthusiasm for Lessons in French is just wonderful. Thanks to Deb, I hope many readers will discover a story and characters that will touch their hearts lightly and bring a smile amid these difficult times.
Praise for Laura Kinsale and Lessons in French
"Kinsale's delightful characters and delicious wit enliven this poignant tale of childhood loves reunited. It will charm your heart!"
—Sabrina Jeffries, New York Times bestselling author of Wed Him Before You Bed Him
"Laura Kinsale is one of the very best writers that the romance genre has ever seen. I am in awe of her talent and I savor every word of her books."
—Madeline Hunter, bestselling author of The Sins of Lord Easterbrook
"I loved it! Lessons in French is a delicious new Kinsale that couples the charm of Midsummer Moon with the intensity of Seize the Fire or The Shadow and the Star. Intrigue, drama, secrets, passion and a grand romance make this a wonderful addition to Laura Kinsale's already excellent repertoire."
—Jennifer Ashley, USA Today bestselling author of The Madness of Lord Ian Mackenzie
"Kinsale is a master storyteller. The sheer beauty of her writing never fails to inspire me."
—Laura Lee Guhrke, New York Times bestselling author of With Seduction In Mind
"Lessons in French will be welcomed by anyone who knows the subtle humor, powerful emotions, and witty charm of Laura Kinsale's work. If you're new to Kinsale's writing, this is a perfect book to start with. Regardless, if you pick up this book, be sure to reserve several hours for complete indulgence."
—Smart Bitches Trashy Books
"Laura Kinsale is the gold standard in historical romance! Funny, sad, witty, and deeply sensual, Lessons in French is an exquisite romance and an instant classic. Laura Kinsale's writing is such a pleasure I know that I'll be rereading Lessons in French for years to come."
—Elizabeth Hoyt, New York Times bestselling author of To Beguile a Beast
"Lessons in French is très magnifique! A passionate and enchanting story of a second chance at first love."
—Dear Author.com
"Lessons in French is wonderful romp, presented with wit, style, and Laura Kinsale's trademark heart-stealing characters. I smiled my way through it, loving every word."
—Jennifer Blake, New York Times bestselling author of Gallant Match

"Insightful. Uplifting. Laura Kinsale reveals the beauty and vulnerability of the human heart with clean, page-turning prose. Don't miss this long-awaited classic from the master storyteller who redefined romantic fiction."—Jillian Hunter, USA Today bestselling author of A Wicked Lord at the Wedding
"Incomparable, unconventional and flat out wonderful, Laura Kinsale captivates with Lessons in French!"
—Catherine Mann, USA Today bestselling author of Hotshot
All Pre-Order Links