The Horses
I bought a new horse in 2010, a bay Dutch (KWPN) gelding with flashy stockings. I named him Verelay (I'm not much better with names than with titles for my books.) It's a type of medieval poem or song, just the sort of thing I know about and gets me odd looks. My excuse is that his name had to start with a "V," and all the good ones were taken. His nickname is Relay.
I'm also riding Firedrake, a Westfalian gelding I bought after I retired Chance. He's the handsome fellow on the Life page. We call him The Lab because he's just like a big labrador dog, very huggable and sweet. He's had a few physical issues, but for now, he is going very well, and I just take each day at a time and see what he can do. Apparently he wasn't about to be written off for a new horse; hasn't had a serious "off" day since the new guy showed up.
Finally some photos!
Drake, 16.1 on the left, Relay, 16.3 on the right.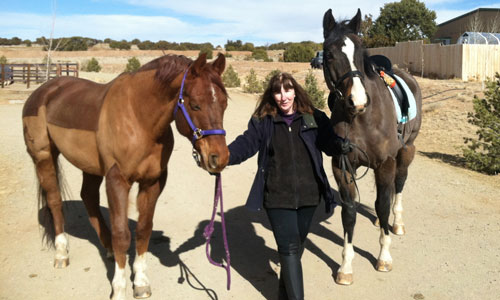 And with our awesome trainer Gilly Slayter-Voightlander of Simply 3-Day and Dressage